01-13-2024
8:30 am
- 01-14-2024
5:00 pm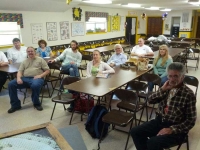 The two day classroom session will be held at Bee City on Saturday, January 13, 2024 and Sunday, January 14, 2024 from 9:00 A.M. to 5:00 P.M. on both days.
Included in this price is our outdoor - hands on - Field Day which will be held on the mornin.g of April 6th, 2024.
Price per Individual Course $80.00. Price for the Course per Couple $110.00.
** If you are bringing Students please Contact Us for appropriate pricing and registration assistance.
Contact Us with any questions.

We accept Visa, Mastercard, American Express, Dsicover, JCB, and Diners Club credit and debit cards.
Your payment information will be handled securely and will not be shared with others.
For your safety your credit card information is not stored on this web site.